Home
Celebrity Gallery2
Celebrity Gallery3
Celebrity Gallery4
Celebrity Gallery5
Celebrity Gallery6
Celebrity Gallery7
Men Celebrities
Jessica Alba
Amanda Bynes
Tyra Banks
Paris Hilton
Reese Witherspoon
Kirsten Dunst
Keira Knightley
Try on Celebrity Hair
Thousands of hair styles at your fingertips!!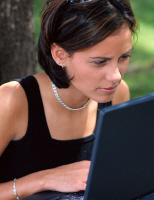 Watch our model Susan demonstrate how to find a new hair style using hair imaging software.
Julia Stiles
Julia looks very elegant with hair style shown below. All of her hair is pulled back into a ponytail. All of her hair is wavy and very shiny.
This ponytail hair style shows off her beautiful facial features and blonde highlights.
Create this style by first applying a curl-enhancing cream throughout the hair. Blow dry the hair using a diffuser attachment. Use only your fingers to shape the hair. Using a hair brush will only remove most of the curls.

Julia Stiles
Buy this Photo at AllPosters.com
Celebrity Gallery7
Jessica Biel
Julia Roberts
Julia Stiles
Madonna
Marcia Cross
Scarlett Johannsen
Ashley Olsen
Are you experiencing hair loss? Visit our Hair Loss Center for solutions and prevention advice.